Filter by Category
Camp LPCA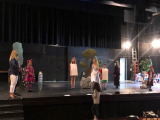 Storming The Stage
with Jessica Deeb

Aug 15, 2022 at 9:30 am

, runs for 1 week
Ages 6-10
Location: LPCA Theatre
Kids will find their very own star power in this terrific theater camp. Campers will dramatize some of their favorite stories and use theater games to build confidence. The camp will focus on fun and exploring imagination through improv & acting. Kids will learn to express themselves with their voices, bodies and minds while morphing into crazy characters. 
Cancellation Policy 
Contact us at least 6 business days before the camp start date, and we will refund the cost of the program minus a 15% enrollment fee.
Contact us 5 business days or less before the camp start date, and we will offer class credit only. 
Full Course
Away with Clay (Abridged)
with Brooke Noble

Aug 18, 2022 at 9:30 am
Ages: 7-13 
NOTE THE DATES: This camp is held Thursday(18th), Friday(19th) and the following Monday(22nd)
Clay may come from the earth, but the sky's the limit in this art camp! From sensational sculptures to functional pottery and more, there is no limit to the mess of fun kids will have. Tiles, animals, masks, coil patterned dishes & extruded artifacts are just some of the projects kids may explore. Finished pieces will be teaming with textures and creativity.
Theatre Games for Kids Camp
with Tara Palen

Aug 22, 2022 at 9:30 am
Will run